Saving money via investment apps and online saving platforms is becoming more popular in Nigeria, and millennials are embracing it, moving away from traditional savings and toward financial technology-enabled platforms. The goal of these platforms is absolutely clear: to provide a stress-free investment and savings experience.
Both newcomers and seasoned investors can benefit from these mobile investment and savings solutions. One advantage is that you can invest in securities like stocks, bonds, mutual funds, and, more lately, the agricultural sector.
10 Topmost Online Saving Platforms in Nigeria
Below are the 10 most popular online saving platforms in Nigeria
1. SumoBank
Another online savings programme that helps you save money automatically may be found here. The platform, formerly known as SumoBank, is aimed at Africans and pays between 8 and 10% annually. SumoTrust allows you to save for a variety of purposes, including business, tuition, emergency savings, travel, shopping, real estate, and more. SumoTrust gives you cheap access to a variety of business professionals who can help you grow and scale your company. Check the List of Topmost Mortgage Institutions in Nigeria
2. Kuda Bank
Kuda Bank, formerly known as KudiMoney, is a disruptive financial technology platform that is driving innovation in Nigeria and beyond. It capitalises on its tagline "bank of the free" by providing a number of cost-free services to its members.
KudaBank, like a number of its competitors, pays a ten percent interest rate on savings. It also offers its customers low-interest loans.
3. KolоPаy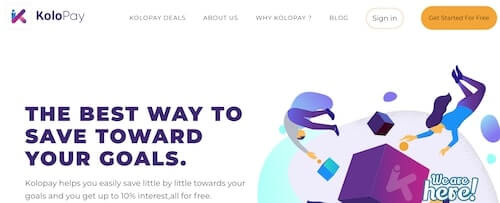 In Nigeria, the KolоPаy savings platform allows you to set aside money for a certain objective over time. Furthermore, you have the option of sharing your savings goal with anyone (friends and family), allowing them to contribute to your goal's achievement. KoloPay has a ten (10%) percent annual interest rate and five (5%) percent withdrawal fees if you withdraw before the stipulated deadline.
4. Investment One
The savings, investment, and private banking platform is owned and operated by Guaranty Trust Bank [GTB]. In addition to this, Investment One offers a wide range of financial services. Among the services offered are asset management, stockbroking, trust and pension fund management, and others. See how to Apply for MasterCard Foundation Scholarships for Nigerians
5. Wema Alat
ALAT takes pride in being Nigeria's first totally digital bank, built by one of the country's oldest institutions, Wema Bank. It encourages customers to save more money by offering a fixed interest rate. It pays a ten percent interest rate on its savings.
ALAT subscribers will receive their debit cards at the account holder's address. ALAT, like Kuda Bank, is also accessible from outside the country. For online payments, you can create a free virtual dollar card.
6. SmartSaver
SmartSaver is a new online savings platform that focuses on smarter, easier methods to save money while maintaining security and convenience. This platform has a surprise for you: It pays up to a stunning 30% interest rate on savings each year.
SmartSaver users also have the option of acquiring loans with no collateral. You can set your savings plan daily, weekly, or monthly, just like PiggyVest.
7. I-invest
Similar to Investment One, which is wholly owned by Guaranty Trust Bank, I-invest is a pan-African inter-brokerage service provider in partnership with Sterling Bank Plc. The platform can be used by both rookie and experienced investors to match their investment maturities to their needs. The interest rate on savings accounts ranges from 8% to 11%. The advantages of investing in Treasury bills are also highlighted.
8. Piggyvest
Customers can use this online savings tool, formerly known as "PiggyBank," to help them better manage their finances. Users can save in a variety of ways with PiggyVest, including daily, weekly, and monthly. Users can set money away for a certain goal. They can also limit the amount of money that can be taken out of the account.
Customers can receive four free withdrawals per year via this platform, which are scheduled on the last day of each quarter. You also have the ability to choose your own free withdrawal dates. Withdrawals made after the four-day period are subject to a 5% penalty fee. Savings at PiggyVest earn a ten percent interest rate. Savings, mutual funds, and other sorts of investments, on the other hand, are among its investment interests.
9. Cowrywise
Cowrywise is a famous online savings service in Nigeria that allows you to save and invest through a mobile app. CowryWise gives you the option to invest in low-, medium-, and high-risk options. Mutual funds, the agriculture sector, and other third-party money market instruments are among the investments. It thrives on a ten percent savings rate, with fluctuating investment rates.
10. PayDay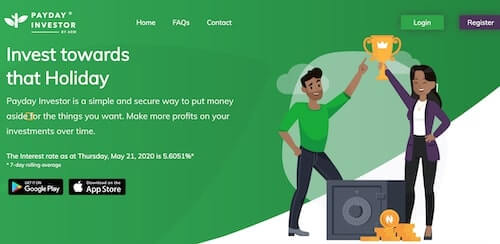 The PayDay savings platform was founded by ARM Investment Managers, a branch of Asset & Resource Management Holding Company (ARM). The investor app allows you to earn money while regularly saving or investing money. Savings interest rates range from 10.9 percent to 12 percent.
Source: CampusNG